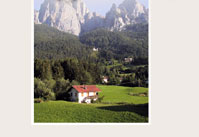 Furscher Mühle
des Toni Schgaguler
Feldererweg 8
I-39040 Siusi allo Sciliar
South Tyrol - Dolomites - Italy
Appart. (+39) 366 331 9826
Restaurant (+39) 329 274 9224

furschermuehle@gmail.com

Firmendaten/Dati societari/Company Details

Cookies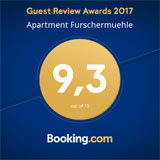 The mill and the restaurant

The mill which is part of our farm is at least 150 years old, possibly 200. It was built directly over the Frötsch creek and was used mostly to grind flour for the Furscher farm, which is our family farm. Of course, farmers from nearby would also bring their corn to be ground at the Furscher mill.
In 1931 the mill was restored by Anton Schgaguler, an uncle of the present farmer, Toni Schgaguler and a Belton turbine was installed in place of the wooden wheel. The mill kept on working until the mid-Sixties; Michael, Toni Schgaguler's father, was the famer here and the miller at the Furscher mill.
The mill then fell silent for 35 years.
In 2003 Hildegard and Toni Schgaguler decided to have the mill restored and put in working order. Instead of the turbine, a wooden mill-wheel was put in and the mill now runs as it did "in the old days". It is still powered by the same creek, which now feeds the fish pond as well.

We grind the corn that is grown by farm "Zu Plun" in the town of St. Valentino over Siusi. The flour is then used by the bakery "Oberprantacher" to produce a delicious bread.

The restaurant, the little restaurant, is inside the mill itself. Around the millstone and over three floors, the small tables snuggle against the ancient walls of the building and create a comfy atmosphere.
The guests are spoiled with delicious home-made specialties.
Schlutzkrapfen, which are a sort of filled pasta pocket typical of the area, various kinds of dumplings, roasted meats and potatoes and grilled trout make any meal a delight. Home-made juices, apple strudel and buckwheat cake round it all off perfectly.

Since the summer of 2014 Inga and Hannes Malfertheiner have taken over this little gem and offer an Alpine-Mediterranean cuisine with seasonal products. For reservations please call the following number: 329 2749224.