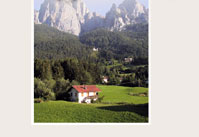 Furscher Mühle
des Toni Schgaguler
Feldererweg 8
I-39040 Siusi allo Sciliar
South Tyrol - Dolomites - Italy
Appart. (+39) 366 331 9826
Restaurant (+39) 329 274 9224

furschermuehle@gmail.com

Firmendaten/Dati societari/Company Details

Cookies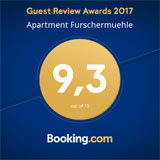 Your holiday home

Our farm is situated 300 m from the centre of the village, at the feet of a sunny southern-facing hill with a lovely view on the Sciliar mountains, five minutes from Siusi by car.
The apartment is 45 m2, on the ground floor, with its own entrance. Our guests have a double room, a room with bunk beds and a completely furnished kitchen. There is also a shower, a lavatory and a washing machine. The house has central heating.
Cable Tv and satellite hookups are at your disposal. Cars may be parked in front of the house.
Both in summer and in winter you will be able to enjoy the sun, there are chaise-longues on the balcony and on the lawn for you.
If you like to fish, you will enjoy our 2000 m2 fish pond.
And if you want to try something special, the old mill, which is still working, is only 100 meters away and it has its own little restaurant.